Version francophone ? Cliquez ici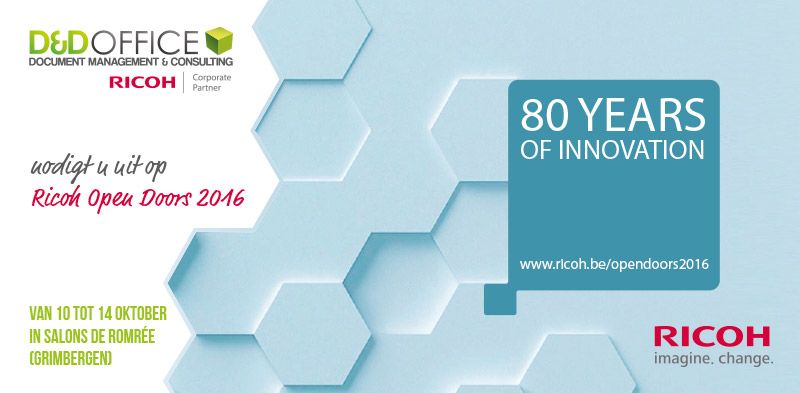 D&D Office nodigt u uit op Ricoh Open Doors 2016
van 10 tot 14 oktober in Salons de Romrée (Grimbergen)
Neem deel aan de grootste technologische ontmoeting van het jaar!
Kom de allerlaatste technologische nieuwigheden ontdekken op gebied van informatie!
Uw ontvangst zal evenredig zijn met de kwaliteit van service die Ricoh u kan bieden.
80 years of innovation!
Wat kan u verwachten:
een professioneel ontvangst;
een buitengewone site;
een gastronomisch buffet.
Bedankt om u in te schrijven met duidelijke vermelding van datum en uur die u het beste past bij
Jean-Pierre De Lange op het nummer 02 793 75 77 of via e-mail jp.delange@ddoffice.be

Praktische info
Plaats van Event
Salons de Romrée
Brusselsesteenweg 39
1850 Grimbergen
Tel: 02 269 74 74
Uren
Maandag 10 okt van 11u tot 18u
Dinsdag 11 okt van 10u tot 18u
Woensdag 12 okt van 10u tot 18u
Donderdag 13 okt van 10u tot 18u
Vrijdag 14 okt van 10u tot 12u
Parking
Parking Romrée
Parking Abdijstraat
Parking via shuttle in de buurt
Ontdek de video van de 2015 editie!